We are unsure as to when we will resume hosting our house concert series. The artists listed below are from our cancelled shows. When we do start hosting again, we will try to book as many of these artists as possible.
6/5/20 - Gathering Sparks - the graceful collision of Eve Goldberg and Jane Lewis—musical friends who blend tight harmonies, finely crafted songs, and a love of participatory singing to create an intimate and uplifting experience. Their inclusive approach embraces folk, pop, blues and gospel influences tastefully played on acoustic guitar, piano, accordion, and ukulele.
9/18/20 - Heather Pierson - pianist, multi-instrumentalist, singer/songwriter, and performer whose inspiring live performances and growing catalog of releases delve into Americana, blues, New Orleans jazz, vocal chants, instrumental piano, and poignant folk.  Best known for her virtuosity at the piano and her bell-tone vocals, her songs and musicianship embody joy, honesty, and a desire to share from the heart.
11/6/20 - Mike Laureanno - Mike Laureanno hails from Fall River, MA. A passionate performer, Mike's songs are visceral and evocative. He is proud of his roots and many of his songs deal with his gritty blue collar hometown and the lives of his family and friends. He is a winner of the 2017 Wildflower, TX songwriting contest, the 2016 Woody Guthrie songwriting contest and a 2016 Kerrvilel New Folk, TX finalist.
2021 Season
4/9/21 - Ric Allendorf - Ric uses music as navigation, discovery, and anchoring. His songs, while personal, feel intuitively familiar. The listener is guided by an ease that is steady and supportive as a mast. Whether performing solo or in collaboration, Ric's playing style gravitates toward unique voicings, percussive frailing, and meticulous fingerpicking patterns that honor his influences – early folk & blues, singer-songwriters of the 80s and 90s, and traditional Celtic and British fingerstyle players.
6/4/21 - Abby Vail - We have known Abby since she was a teenager, performing at open mics. She was an amazing writer, and interpreter of songs then and even better now. Her original songs touch the soul and her unique voice leaves you wanting to hear more. Catch her while you can!
9/10/21 - Don White - There is no one-word description for what Don White does. He's an award-winning singer/songwriter, a comedian, an author, and a storyteller. He's been bringing audiences to laughter and tears for thirty years, released ten CDs, three live DVDs, and a book, Memoirs of a C Student.
11/5/21 - House of Hamill - Both Rose Baldino and Brian Buchanan are accomplished traditional fiddle players and classical violinists, with over 25 years of writing and performance experience between them. Together, they write unusual new fiddle tunes and exciting, unpredictable original songs while breathing new life into traditional and contemporary songs. Both are confident and unique lead vocalists, and the blend of their two voices in harmony is hypnotic and irresistible.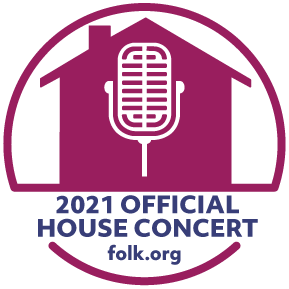 Sign up for our newsletter
We are thrilled to return to this wonderful concert series.